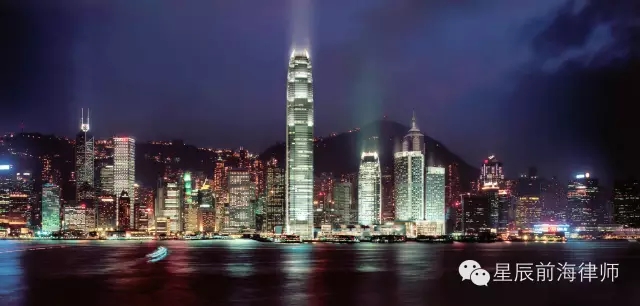 香港位於亞熱帶,差不多有半年時間氣候極為溫和。許多人認為十一月和十二月的天氣最好,風和日麗,氣溫適中。一月和二月則雲量較多,間中有冷鋒過境,帶來乾燥的北風;市區氣溫有時會降至攝氏10度以下。新界和高地的氣溫,有時亦會降至攝氏零度以下,並有結霜現象。
Hong Kong's climate is sub-tropical, tending towards temperate for nearly half the year. During November and December there are pleasant breezes, plenty of sunshine and comfortable temperatures. Many people regard these as the best months of the year. January and February are cloudier, with occasional cold fronts followed by dry northerly winds. It is not uncommon for temperatures to drop below 10 Degree C in urban areas. The lowest temperature recorded at the Observatory is 0 Degree C , although sub-zero temperatures and frost occur at times on high ground and in the New Territories.
三月和四月的天氣也很好,但間中極為潮濕。霧和毛毛雨使能見度降低,有時更令到航空和渡輪服務中斷。
March and April can also be very pleasant although there are occasional spells of high humidity. Fog and drizzle can be particularly troublesome on high ground which is exposed to the southeast, and air traffic and ferry services are occasionally disrupted because of reduced visibility.
五月至八月的天氣炎熱潮濕,間中有驟雨和雷暴,在上午尤為常見,下午氣溫經常升逾攝氏31度,晚上則保持在攝氏26度左右。 七月通常會有一段維持約一至兩星期,有時甚至更長的晴朗天氣。
May to August are hot and humid with occasional showers and thunderstorms, particularly during the mornings. Afternoon temperatures often exceed 31 Degree C whereas at night, temperatures generally remain around 26 Degree C with high humidity. There is usually a fine dry spell in July which may possibly last for one to two weeks, or for even longer in some years.
七月和九月是本港最有可能受颱風影響的月份,但其實由五月至十一月期間都有可能受不同強度的熱帶氣旋吹襲。在北太平洋西部、東海及南海上,每年平均有30個熱帶氣旋形成,其中半數達到颱風強度,最高風速為每小時118公里或以上。
July and September are the months during which Hong Kong is most likely to be affected by tropical cyclones, although gales are not unusual at any time between May and November. On average, about 30 tropical cyclones form in the western North Pacific or China Seas every year, and about half of them reach typhoon strength (maximum winds of 118 kilometres per hour or more).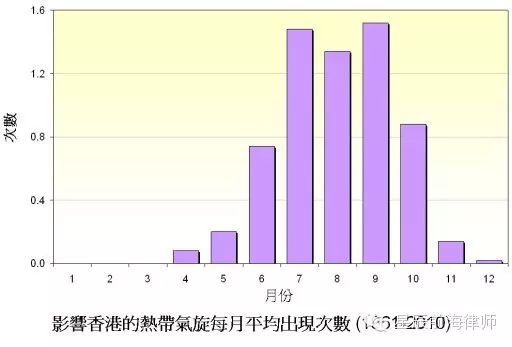 當熱帶氣旋集結在本港東南約700至1000公里時,本港天氣通常晴朗酷熱,但黃昏時卻可能有局部地區性雷暴。若熱帶氣旋中心移近本港,風力便會增強,廣泛地區可能會有大雨。熱帶氣旋帶來的大雨可能持續數日,引致山泥傾瀉和水浸,造成的災害有時比烈風的破壞還甚。
When a tropical cyclone is about 700 to 1000 kilometres southeast of Hong Kong, the weather is usually fine and exceptionally hot, but isolated thunderstorms sometimes occur in the evenings. If the centre comes closer to Hong Kong, winds will increase and rain can become heavy and widespread. Heavy rain from tropical cyclones may last for a few days and subsequent landslips and flooding sometimes cause considerably more damage than the winds.
本港各區的每年平均雨量差別頗大,平洲約為1400毫米,而大帽山附近則超過3000毫米。大約80%的雨量是在五月至九月錄得。六月和八月通常是最多雨量的月份,而一月和十二月雨量最少。
The mean annual rainfall ranges from about 1400 millimetres at Ping Chau to more than 3000 millimetres in the vicinity of Tai Mo Shan. About 80 percent of the rain falls between May and September. June and August are usually the wettest months while January and December are usually the driest months.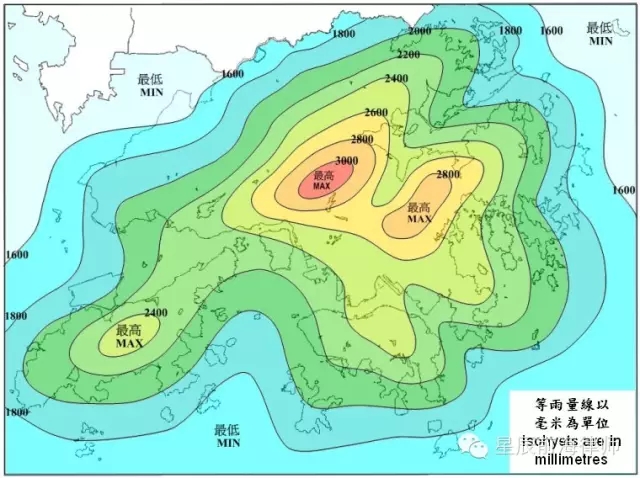 影響香港的惡劣天氣包括熱帶氣旋、強烈冬季及夏季季候風、季風槽及經常在四月至九月發生的狂風雷暴。水龍捲和冰雹偶有出現,降雪和陸龍捲則屬罕見。
Severe weather phenomena that can affect Hong Kong include tropical cyclones, strong winter and summer monsoon, monsoon troughs, and thunderstorms with associated squalls that are most frequent from April to September. Waterspouts and hailstorms occur infrequently, while snow and tornadoes are rare.